REGISTRATION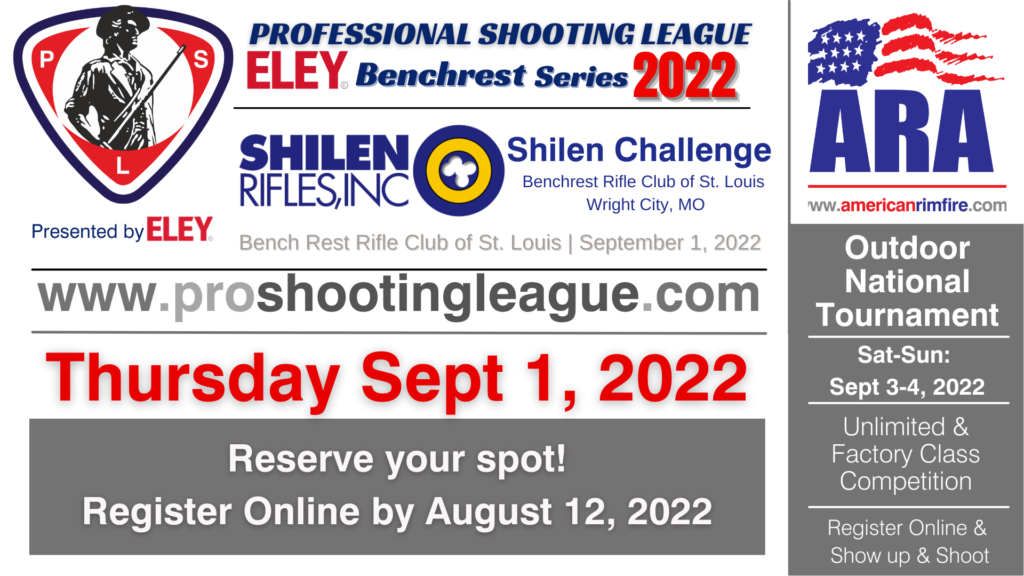 SHOW UP & SHOOT!
Thursday, September 1, 2022
Professional Shooting League Shilen Challenge 2022
PreRegister – $125 Late Registration – $150
*Refunds will only be available for orders canceled on or before August 12. After that time, there will be no refunds.
Payouts at each PSL are based on the number of entries. The TOP 10 from each event will qualify to shoot in the 2022 ELEY Benchrest Series Main Event paying out $10,000 divided among the top 3 finishers.
Pre Register and Pay the entry Fee of $125 by the August 12 to guarantee your spot!
All participants MUST Register & Pay on or before August 12, 2022 to guarantee a spot.
After August 22 – OPEN benches will sold at $150/person. NO BENCH SHARING GUARANTEE. NO LEFT HANDED BENCH PREFERENCE GUARANTEE. There will be limited quantity (based on availability) sold on a first come first serve basis. After the August 22 , Call (325)939-0154 to see if a bench is available. Anyone who shows up at the match without prior registration will NOT be guaranteed a spot to shoot.
Each competitor must Check In at the range by 5:00pm the day before the match unless prior arrangements are made with Dawn Killough
Follow these links for more information:
Shoot the PSL and stick around for the ARA National Tournament! The National Tournament is for all ARA competitors from around the country to gather, fellowship, and compete. Participants may compete in either Unlimited or Factory class. Pre Registration for the ARA National Tournament may be done when you register for the PSL.