Schedule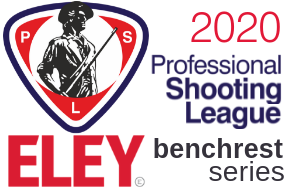 | | | | |
| --- | --- | --- | --- |
| DATE | MATCH | RANGE | LOCATION |
| October 19, 2019 | MullerWorks Barrels Showdown | Oil Capital Rod & Gun Club | Tulsa, OK |
| December 6, 2019 | The Shootout | Chickenfoot Indoor Club | Cedartown, GA |
| May 21, 2020 | Holeshot Arms Benchrest Brawl | Kettlefoot Rod & Gun | Bristol, VA |
| May 23, 2020 | Triple Crown of Rimfire – 3 card Qualifier | Kettlefoot Rod & Gun | Bristol, VA |
| September 4, 2020 | Shilen Challenge | The Benchrest Rifle club of St. Louis, MO | Wright City, MO |
| TBA | The ELEY Benchrest Series Main Event | The Benchrest Rifle club of St. Louis, MO | Wright City, MO |
The Chickenfoot Winter Shootout
December 6, 2019
The PSL Chickenfoot Winter Shootout will be held at
The Chickenfoot Indoor Club in Cedartown, GA on Friday, December 6, 2019. The PSL match payouts will be based on the number of entries. The TOP 10 finishers will qualify to compete in the 2020 ELEY Benchrest Series Main Event which pays out $10,000 divided among the top 3. To see more information on the Main Event click here.
Directions
Chickenfoot Indoor Range
About Chickenfoot
Chickenfoot is a privately owned shooting range located in Cedartown, GA. The newly built indoor facility has 25 shooting benches and tables set up for cleaning areas and storage.
---
---
---
Schedule of Events
Wednesday 12/4/19 – Practice
Thursday 12/5/19 – ABRA Indoor National Tournament – CLICK HERE TO REGISTER
Friday 12/6/19 – 8:00am PSL Winter Shootout – 5 Card Money Match
Saturday  12/7/19 – 8:00am ARA Indoor National Tournament begins – 4 targets
Sunday 12/8/19 – 8:00am ARA Indoor National Tournament continues – 2 targets