Schedule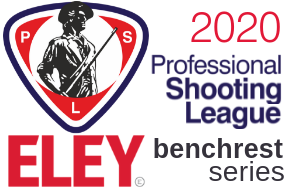 | | | | |
| --- | --- | --- | --- |
| DATE | MATCH | RANGE | LOCATION |
| October 19, 2019 | MullerWorks Barrels Showdown | Oil Capital Rod & Gun Club | Tulsa, OK |
| December 6, 2019 | The Shootout | Chickenfoot Indoor Club | Cedartown, GA |
| May 21, 2020 | Holeshot Arms Benchrest Brawl | Kettlefoot Rod & Gun | Bristol, VA |
| May 23, 2020 | Triple Crown of Rimfire – 3 card Qualifier | Kettlefoot Rod & Gun | Bristol, VA |
| September 4, 2020 | Shilen Challenge | The Benchrest Rifle club of St. Louis, MO | Wright City, MO |
| TBA | The ELEY Benchrest Series Main Event | The Benchrest Rifle club of St. Louis, MO | Wright City, MO |
PSL SHILEN CHALLENGE
September 4, 2020
The Shilen Challenge PSL match payouts will be based on the number of entries. The TOP 10 finishers will qualify to compete in the 2020 ELEY Benchrest Series Main Event which pays out $10,000 divided among the top 3. To see more information on the Main Event click here.
ARA Outdoor National Tournament
September 5-6, 2020
The ARA Outdoor National Tournament is the biggest ARA Event of the year! This year the ARA added the Factory Class Competition which will also be included in the Outdoor National Tournament. For more information on the ARA click here.
The Outdoor National Tournament will be 2 days of competition shooting a total of 8 targets.
Saturday 9/5 = 5 targets
Sunday 9/6 = 3 targets
---
Directions
Benchrest Rifle Club of St. Louis
2280 Kohn Rd, Wright City, MO 63390
---
About The Bench Rest Rifle Club of St. Louis
BRRC is one of the finest private shooting clubs in the United States. We will be utilizing the 60 bench range, pavilion, and club house. For more information about BRRC click here.
---
---
Schedule of Events
Thursday 9/3 – Practice Day & Check in for both Events
Friday 9/4 – 8am Start time – PSL Shilen Challenge
Saturday 9/5 – 9am Start time – ARA Outdoor National Tournament – 5 Targets
Sunday 9/6 – 9am Start time – ARA Outdoor National Tournament – 3 Targets
Sunday 9/6 – ARA 2019-20 Awards Ceremony – immediately following the Outdoor National Tournament
---