2022 ELEY Benchrest Series Points

All competitors in the 2022 PSL season receive points based on finish. Winners will be announced at the conclusion of the 2022 Season. Check out the RULES for more details.
1st Place– $2500 | 2nd Place– $1500 | 3rd Place– $1000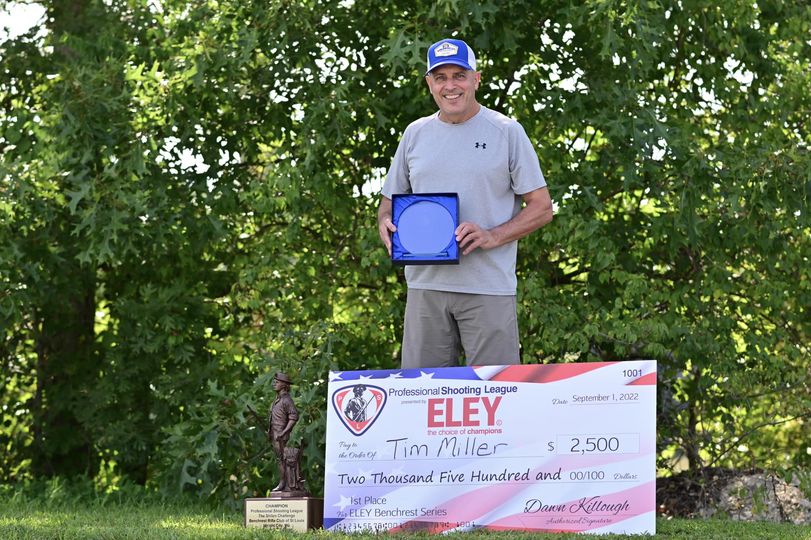 Points Standings (updated 9/10/2022)
***If you believe there is a mistake in the points please contact Dawn at Dawn@AmericanRimfire.com
These results are the top 55, each competing in two or more PSL events.
| | | | | | | |
| --- | --- | --- | --- | --- | --- | --- |
| PLACE | NAME | MW Shootout | Holeshot Brawl | Wisconsin Wild Card | Shilen Challenge | Total |
| 1 | Tim Miller | 91 | 81 | 108 | 109 | 389 |
| 2 | Barry Maney | 97 | 107 | 88 | 92 | 384 |
| 3 | Brian Brandt | 107 | 75 | 98 | 95 | 375 |
| 4 | Larry Parsons | 92 | 89 | 94 | 99 | 374 |
| 5 | Greg Monroe | 69 | 98 | 97 | 97 | 361 |
| 6 | John Prince | 89 | 67 | 95 | 90 | 341 |
| 7 | Jr Groves | 85 | 82 | 96 | 73 | 336 |
| 8 | Richard Knott | 84 | 79 | 92 | 75 | 330 |
| 9 | Randy Owens | 68 | 54 | 90 | 82 | 294 |
| 10 | James Garrett | 99 | 100 | 0 | 80 | 279 |
| 11 | Michael Lowe | 97 | 94 | 0 | 87 | 278 |
| 12 | Greg Hissong | 83 | 49 | 82 | 62 | 276 |
| 13 | Wade Owens | 76 | 63 | 69 | 64 | 272 |
| 14 | Bill Drummond | 80 | 93 | 0 | 97 | 270 |
| 15 | Jerry Stiller | 0 | 90 | 86 | 91 | 267 |
| 16 | Donald Hamblin | 61 | 53 | 92 | 55 | 261 |
| 17 | Tony Brazil | 94 | 71 | 0 | 93 | 258 |
| 18 | Paul Tolvstad | 47 | 86 | 71 | 52 | 256 |
| 19 | Timmy Martin | 87 | 87 | 0 | 74 | 248 |
| 20 | Joe Besche | 42 | 57 | 83 | 66 | 248 |
| 21 | Frank Shook | 78 | 68 | 0 | 98 | 244 |
| 22 | James Popanz | 0 | 80 | 74 | 84 | 238 |
| 23 | Bob Cleveland | 89 | 85 | 0 | 63 | 237 |
| 24 | Richard Gorham | 66 | 77 | 0 | 86 | 229 |
| 25 | Marion Collier | 81 | 70 | 0 | 77 | 228 |
| 26 | Jon Mix | 59 | 95 | 0 | 60 | 214 |
| 27 | Jerry Smith | 77 | 73 | 0 | 58 | 208 |
| 28 | Frank Karwowski | 51 | 44 | 70 | 39 | 204 |
| 29 | Anthony Wright | 55 | 51 | 88 | 0 | 194 |
| 30 | Chuck Morrell | 95 | 97 | 0 | 0 | 192 |
| 31 | Dennis Cronin | 0 | 45 | 79 | 67 | 191 |
| 32 | Dustin Allen | 74 | 48 | 0 | 65 | 187 |
| 33 | Scott Albury | 67 | 42 | 0 | 76 | 185 |
| 34 | Cody Stehlik | | 94 | 0 | 88 | 182 |
| 35 | Eddie Robertson | 99 | 0 | 0 | 83 | 182 |
| 36 | Brian Stehlik | | 91 | 0 | 89 | 180 |
| 37 | Jason Thornhill | 57 | 65 | 0 | 51 | 173 |
| 38 | Ed Ledbetter | 38 | 50 | 0 | 81 | 169 |
| 39 | Michael Sherrill | 93 | 74 | 0 | 0 | 167 |
| 40 | Jamie Hoskins | | 0 | 73 | 94 | 167 |
| 41 | Tom Sherley | 82 | 27 | 0 | 57 | 166 |
| 42 | Hudson Wright* | 54 | 43 | 66 | 0 | 163 |
| 43 | Clifford Arnold | 70 | 41 | 0 | 49 | 160 |
| 44 | Larry Landercasper | | 0 | 85 | 68 | 153 |
| 45 | Brian Thompson-wi | | 0 | 84 | 53 | 137 |
| 46 | Ralph Van Horn | 0 | 47 | 89 | 0 | 136 |
| 47 | Paul Legwinski | | 0 | 77 | 59 | 136 |
| 48 | Fred Sears | 86 | 37 | 0 | 0 | 123 |
| 49 | John Carper | | 76 | 0 | 47 | 123 |
| 50 | Jeff Riester | | 61 | 0 | 61 | 122 |
| 51 | Robert Oates | 90 | 30 | 0 | 0 | 120 |
| 52 | Rhett Matheney | | 35 | 78 | 0 | 113 |
| 53 | Trent Shellabarger | 53 | 58 | 0 | 0 | 111 |
| 54 | Tim Longcore | 52 | 0 | 0 | 54 | 106 |
| 55 | Joel Reece | 56 | 0 | 0 | 50 | 106 |